Home at last!! I am still jetlagged but I think I am awake enough to type this entry. I have mixed feelings right now. A part of me wants to stay in China a little longer just to explore more and the other part wants to go home. During the first few days of the trip, I really wanted to go back to America because I couldn't stand the low toilets, bathroom "flooding" problems, and even the food! The Chinese dishes were delicious, but having the same kind of food every night was not on my mind. Because of this, I missed hamburgers, pizzas, and steaks. Moreover, I'd probably caught the stomach flu since I was eating foods from street-carts, all of which looked so mouth-watering, until I realized how they could eventually upset my stomach. But luckily, it only lasted for less than two days and I was ready to eat real food again (yay! no more white porridge!!), avoiding street ones.
<<Here's me with my family eating lots and lots of good food!!yeah!>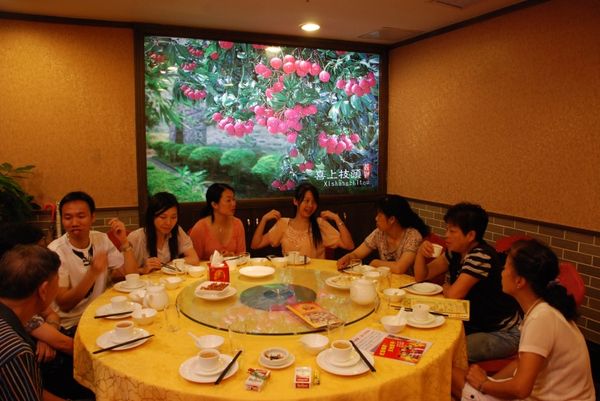 The Global Youth Ambassador Summer China Root-finding Trip, sponsored by Sing Tao and Cathay Pacific Airline--<<Great s elections of movies and music choices to make the 12-14 hours flight so peaceful>> (Thank you so much!!), has been a very rewarding experience. I am very grateful to be given the opportunity to visit my parents' homeland and to learn more about my culture through tours. Although it only lasts for less than two weeks, I've been to many places in China that have ultimately changed my life!
<<1st day....already met some awesome people who would be my friends forever!!! yay!>>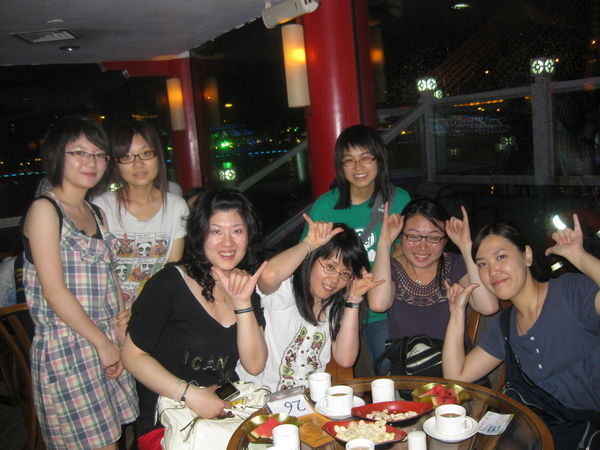 The best part of the camp was my time spent with my family! I'd never seen my dad's side of the family before and the thought of finally getting to meet them for the first time just kept me really excited. When I first set foot onto Guangzhou, I was too elated and couldn't stop smiling when I saw my aunts and uncles. My older cousins took me out shopping and treated me to dinner. Because of their hospitality, I felt blessed for having the best cousins in the world! After we parted ways, emotions took control over me. Although I'd only seen my family twice, I already felt like we were inseparable. It was then that the other part of me wanted to stay in Guangzhou, even if it meant that I had to "abandon" my dad and my two younger brothers in the States. I was torn between Guangzhou and San Francisco but I knew that my heart would always be in these two places. As a Chinese American, I must finish my studies in the States, but I would always be welcomed back by my relatives if I ever wanted to visit.
<<Here's me getting spoiled by my older cousins! They took me out shopping and paid for everything!! My parents will start lecturing me once they find out...>>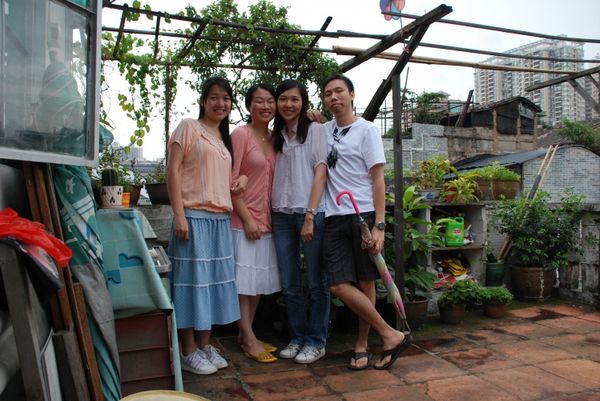 Besides visiting my family, I further traced my roots by going to The Great Hall of the People and The Great Wall to name a few. There was so much to explore but in such a short amount of time. For example, the martial arts performances fascinated me. I also enjoyed the erhu performance at the Great Hall of the People. The performances showed me how talented Chinese people were.
<<Erhu performer. He totally rocked the instrument!! I've never witnessed such a beautiful erhu performance! BRAVO!!>>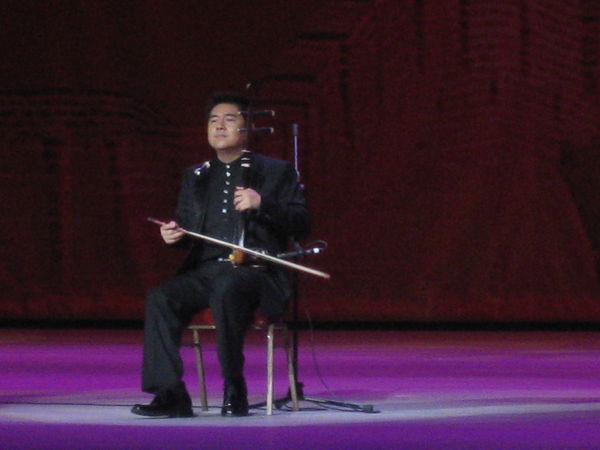 Again, I would like to thank Sing Tao and Cathay Pacific for arranging such a pleasant trip that has influenced me to go back to China in the near future. Not only was I able to gain new knowledge of the rich Chinese culture, but I was also able to make new friends who shared the same passion I had for music. I am definitely keeping touch with everyone via facebook, email, and instant messaging.
<<Here's a picture of me with the STAFF!! The trip wouldn't have been a success without you guys!! Thank you so much for your hard work!! OMG!! Paulo is missing!!! From left to right: Doris, Me, Justinne, and Wang Ying>>
I love you all and wish you all the best in your studies and/or work! Take care!
*Keep in touch! Let's plan for a reunion!!*